Streamline Package Receiving Process
Our solution provides a better, more efficient and secure package management system. The platform connects verified and rated residents to help each other receive packages. 
We help you repurpose commercial real estate to optimize revenue, and focus on most important tasks like tenant management because we know that in the property management business, the best way to save on costs is through tenant retention.
Are the current solutions working?
Residential buildings had already experienced 60 percent online deliveries increase year over year prior to COVID-19. And now, everyday is Black Friday. The unprecedented volume of packages is one thing. The packages have become more difficult to store with residents ordering such heavy and oversized items as mattress, TV, tables, diapers, dog food and cat litter. The pictures below are snapshots of the current package situation in the buildings.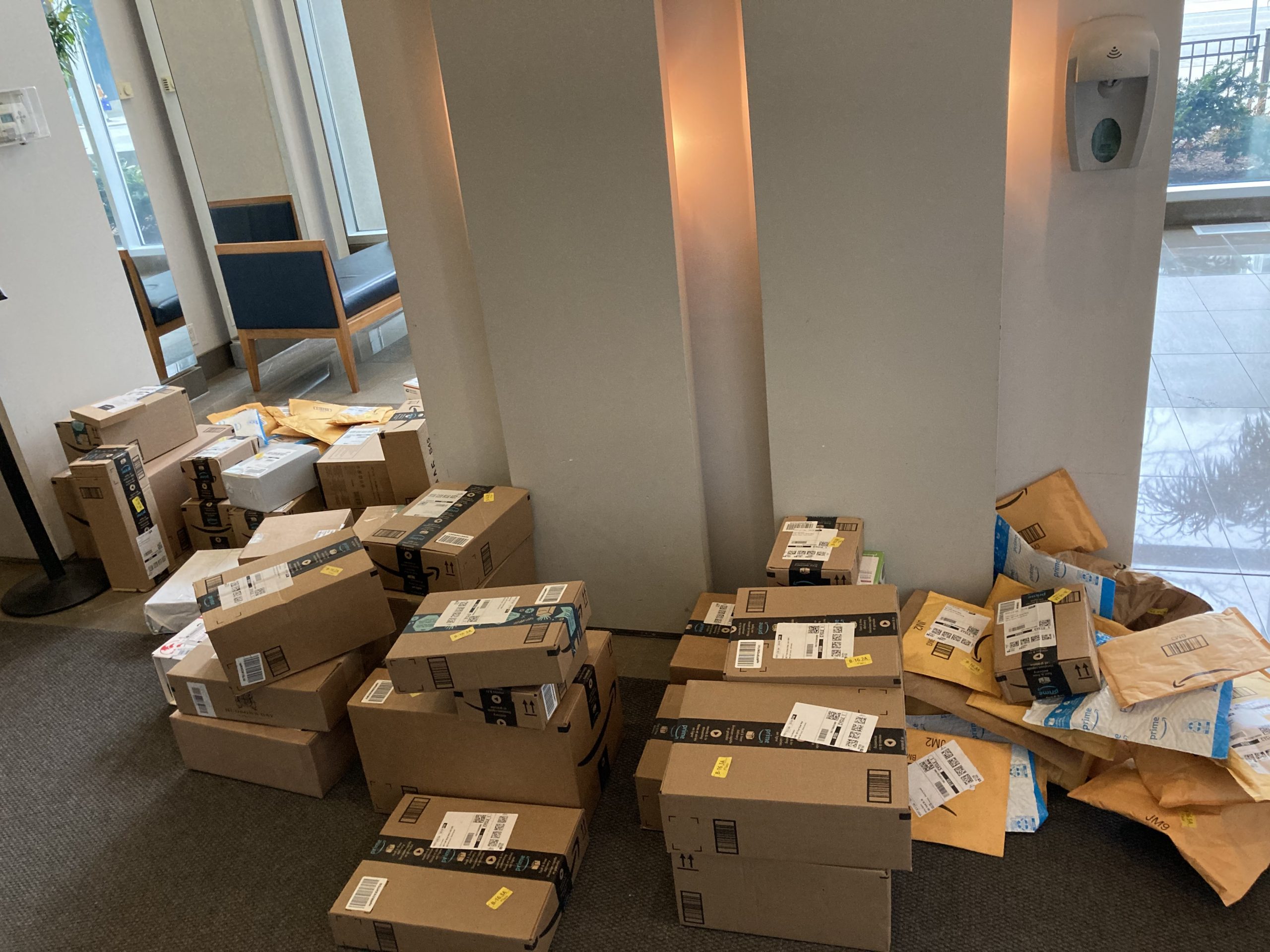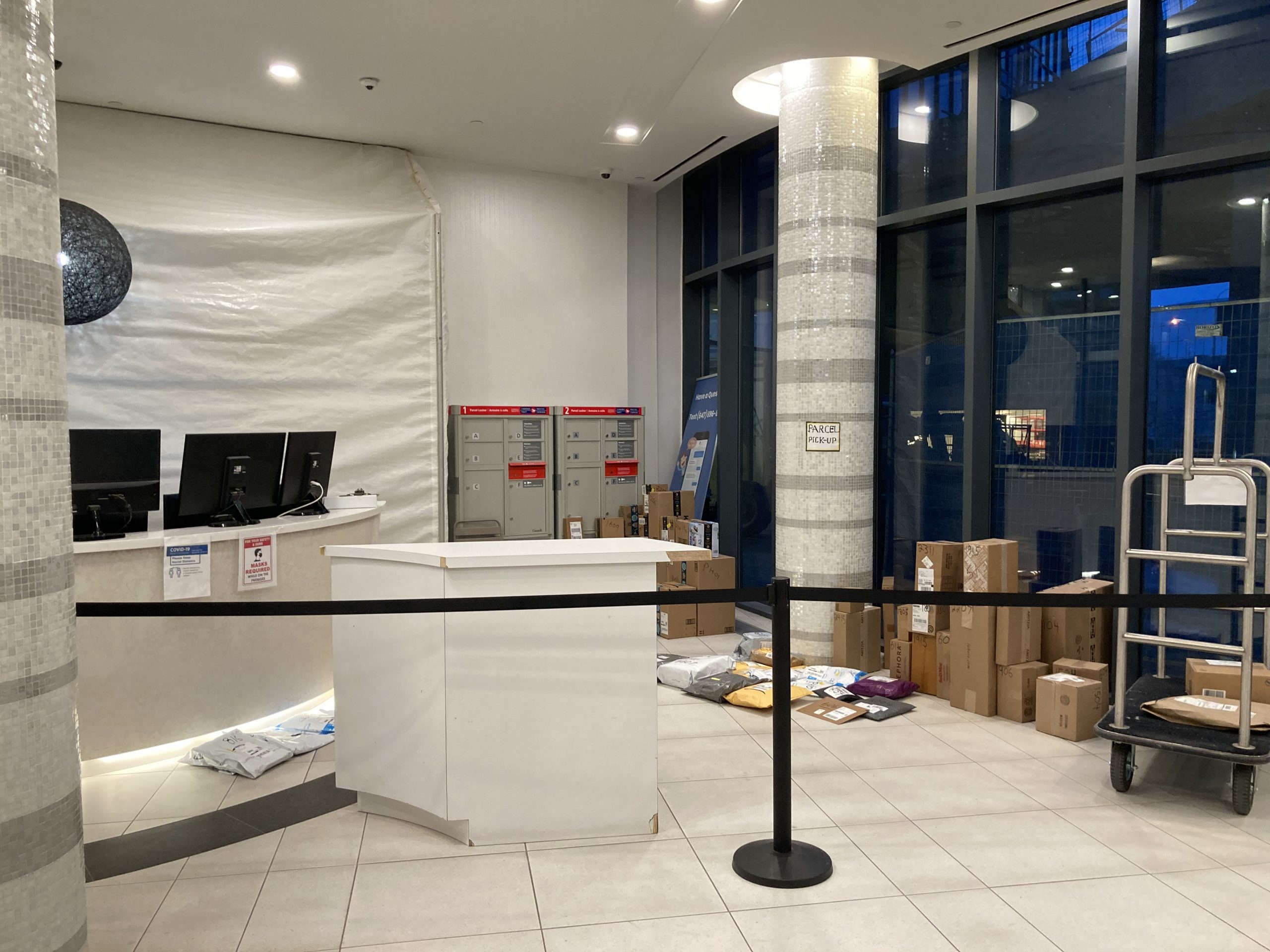 After meeting and talking to the property managers and concierge, what we've heard in common is, "we receive a lot of packages every day. This is the new normal now." So how many packages are delivered to residential buildings daily? Let's take a look at the table below — the numbers are based on our interviews with the concierge and watching the package flow in various buildings.
Do you know each package takes the concierge about 10 minutes to handle, from signing off on receipts, processing it into its system, notifying residents and finding it in the storage room? When we do simple math, it's not hard to conclude that the concierge spends a lot of time on packages — although their primary task is to ensure the security and safety of the residents.
Some building managers are considering solutions like space expansion and smart-lockers, if they haven't already done so. These existing solutions, however, are not sustainable. You may wonder why.
Smart-lockers were great when they first came out, an amazing invention. They take space, a lot of space. And the locker compartments are limited (32, 64, 128) due to the increasing package volume and odd sizes. Most importantly, couriers refuse to spend time to put packages in the lockers one by one — in particular, Canada Post which counts for nearly 40% of the package deliveries! It's not something the property managers would know, unfortunately. When the packages are left on the floor unattended, it leads to potential package theft.
Residents are frustrated and have been sharing the bad experience on social media. 
In some buildings, staff rooms, party rooms and even space in the parking garage were converted to store  packages. When COVID hit, the property managers suddenly realized, "Oh no, we need more space!" Where to find extra space though? Rooftop? 
Interestingly, the real estate developers are aware of the package storage issue. We have met quite a few reputable players in the industry, and was told that they couldn't leave a meeting without talking about package receiving for new developments. And they realized that the designated storage space was no longer sufficient halfway through the construction. Moreover, when they consulted with property managers for the new developments, they were told not to consider smart-lockers for the reasons stated above. 
The bottom line is the package receiving issue is relatively new to everyone in the ecosystem. A VP at a large real estate development company said, "we use smart-lockers for now because we don't know what else is out there – we have nothing to compare to."
The truth is that online shopping will not slow down in the future. Instead, it's here to stay. According to FedEx, 100 million packages will be delivered per day by 2026. The question is where to get extra space to store all the packages?